soundcore
Strike 3
PS4 Headset, PC Headset, 7.1 Surround Sound, Sound Enhancement for FPS Games, Noise Isolating Mic, LED Light, and Cooling Gel-Infused Cushions
Stop Listening, Start Feeling: Put yourself at the center of the action with virtual 7.1 surround sound. Oversized 52mm drivers ensure the sound of your victory is delivered with punch and power.

Precision Hearing: Get an in-game advantage thanks to a specially designed driver enclosure that emphasizes the sound of gunfire and footsteps to pinpoint enemy positions.

Stay Cool Under Pressure: Ear pads made from soft memory foam, infused with cooling gel, ensure that you stay cool while you set the scoreboard on fire.

You Call The Shots: A fully detachable, noise-cancelling microphone transmits your calls to the team in perfect clarity. The microphone's IPX5 waterproofing effortlessly resists sweat, water, saliva, and drinks.

Take Control: Tailor the perfect listening experience by adjusting every aspect of your gaming sound in the Soundcore Gaming app.
    Precision Hearing
Thanks to a unique driver enclosure, in-game audio is delivered with hyper precision. Locating sounds such as footsteps and gunfire becomes effortless. And when you hear your enemy first, you always have the upper hand.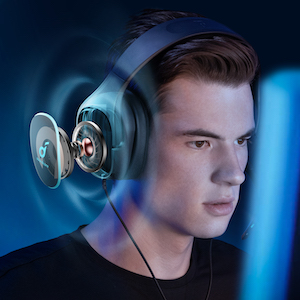 Feel The Sound
Oversized 52mm drivers give powerful, bass-driven sound that delivers visceral feedback as you leave your enemies in the dust. Don't just hear it, feel it.
Be Heard
A removable IPX5 water-resistant microphone isolates your voice from background noise so your calls and commands are heard clearly over the sound of battle.
Customize Your Sound
Download the Soundcore Gaming app on your computer to adjust the sound profile to suit you.
Stay Cool Under Pressure
Super-soft memory foam ear pads are infused with cooling gel to stay comfortable while you stay frosty.
For PC and PS4
Designed to work with both PC and Playstation 4. The Soundcore Gaming app is only compatible with PC.
FAQ
What should I do if there is no sound when the headset is connected to a computer?

1) Check if the USB connector plugs correctly into the computer.
2) Check if the headset has been selected as the default output device on your computer. This can be found in your computer's audio settings.
What should I do if the microphone does not work?

1) Make sure the microphone is inserted correctly.
2) Make sure the Mic Mute switch is not turned on. If it is switched on there will be a green light illuminated on the microphone.
How can I improve the microphone's performance?

Try to adjust the microphone's position, ideally it should be within 80 mm of your mouth.
What should I do if the other side cannot hear me when using the Discord app?

Try resetting the voice settings on the Discord app via the steps below:
Click User Settings-->Voice & Video-->Scroll down and click Reset Voice Settings
Copyright © 2021 Anker Technology (UK) Ltd
