Due to COVID-19 shipping times may vary.
soundcore
Life Q10
Hi-Res Certified Sound, 60-Hour Playtime and Fast USB-C Charging, Deep Bass, Aux Input.
Sound core is Anker audio brand, Our signature sound is loved by 10 million+ people around the world.

Hi-res certified sound: The Hi-Res logo is a of exceptional audio quality, awarded only to audio devices capable of producing the most accurate representation of what the artist intended. Unlike ordinary headphones, life Q10 deliver sound up to 40 KHz for the richest, most nuanced listening experience.

Bass up: our exclusive bass up technology analyzes your Audio's low frequencies in real-time and instantly increases the Bass. Combined with oversized 40mm dynamic drivers, bass power is boosted up to 100%. a button on the right ear cup of the wireless over ear headphones activates bass up.

60-Hour playtime: an advanced Bluetooth chip with reduced power draw combines with anker's world-renowned power technology to offer enormous playtime, even for wireless over ear headphones. Listen for 2 hours a day for an entire month.

Fast-charging: in a rush? Charge life Q10 wireless over ear headphones for 5 minutes and listen for up to 5 hours. With a USB-C charging port for charging convenience and expanded compatibility.
$39.99
Please allow 3-5 business days for shipping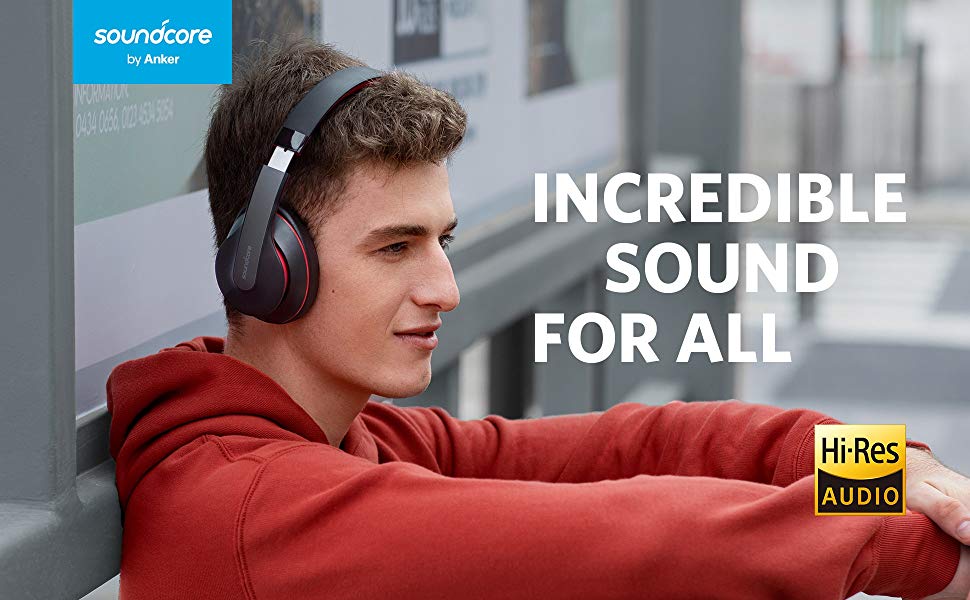 Hi-Res Certified
Get CD-quality audio playback via wireless over ear headphones. Incredible detail and rich tones combine for an incredible listening experience.
BassUp
Exclusive technology conducts real-time analysis and enhancement of your audio's bass frequencies to add powerful sonic punch.
60-Hour Playtime
Wireless over ear headphones with extended battery life thanks to Anker's power management hardware ensures up to two months of listening on a single charge.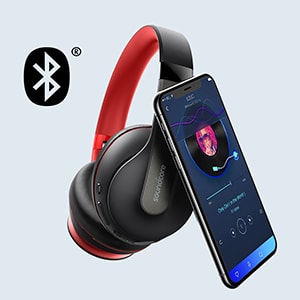 Bluetooth 5.0
Get excellent stability and a wireless range of up to 50 ft. With skip-free audio, even in busy places.
AUX Mode
Get infinite playtime via the 3.5mm audio port.
Hands-Free Mic
Take or make calls seamlessly on your wireless over ear headphones via the built-in microphone. And once your conversation is over, the music keeps on playing.
FAQ
How do I activate BassUp?

- Press the BassUp button to turn it on.
- Life Q10 remembers the mode you last used when it's turned on and pairs with your device.
- If Life Q10 is in AUX mode, BassUp does not work.
How do I connect Life Q10 to another device?

Life Q10 will automatically connect to the last paired device when turned on. If you would like to pair it with a different device, use one of the following methods:

To pair with a different device:
- Turn off the Bluetooth on the first device to make Life Q10 re-enter pairing mode. Then pair with the second device.

To pair with two devices at the same time:
- Hold down the Volume+ and Volume- buttons at the same time for 4s to make Life Q10 re-enter pairing mode, then find Life Q10 in the second device's list of available Bluetooth devices.
Will Life Q10 turn off automatically?

Yes, Life Q10 will automatically turn off after 2 minutes whenit is disconnected from a Bluetooth device.
How do I reset Life Q10?

1. Plug into the power supply.
2. Hold down the Power and Volume+ buttons for 5 seconds. You will see a red/blue light flash twice.

Your order qualifies for FREE Shipping!
