FREE SHIPPING ON ORDERS OVER $28 | 30-DAY MONEY-BACK GUARANTEE
Liberty Air 2

OVERVIEW

FEATURES

FAQ

DOWNLOADS

REVIEWS
soundcore
Liberty Air 2
True Wireless Earbuds with Diamond-Coated Drivers and 4 Microphones with Uplink Noise Cancellation
Diamond-Enhanced Sound: Liberty Air 2's diamond-coated drivers increase the sound frequency bandwidth by 15% and deliver 2× the amount of bass.
4 Microphones with cVc 8.0 Uplink Noise Cancellation: Environmental noises are reduced by 60% and 95% of your voice is retained for a crystal-clear call experience.
Up to 28 Hours of Playtime: Enjoy 7 hours of playtime on a single charge and extend to 28 hours with the charging case.
HearID Technology: HearID maps your hearing sensitivity at multiple frequencies and intelligently analyzes the results to give you a truly personalized listening experience.
One-Step Pairing and Bluetooth 5 Connectivity: Liberty Air 2 wireless earphones use Bluetooth 5 for a fast, easy, and ultra-stable connection.
$99.99
Diamond-Enhanced Sound
Ultra-lightweight, yet rigid diamond-coated drivers produce sound with flawless accuracy.
Crystal-Clear Calls
Liberty Air 2 true wireless earphones have 4 built-in microphones with cVc 8.0 noise reduction technology. This ensures your voice is optimized while ambient noises are suppressed.
Extended Playtime
Listen for up to 7 hours on a single charge, or increase to 28 with the charging case.
Quick Boost of Power
When you're short of time and running low on battery, charge the true wireless earphones in the case for 10 minutes and enjoy 2 hours of playtime.
Ultra-Fast Bluetooth Pairing
Step 1: Open the charging case.
Step 2: Turn on your device's Bluetooth. The true wireless earphones will automatically connect.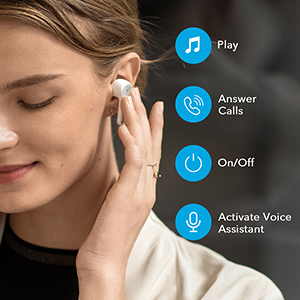 Full Touch Control
Use either earbud to control music, calls, activate voice assistants, or even power on/off.
Portable Size
Liberty Air 2's tiny charging case has been designed to easily fit into virtually any pocket or bag.
Ergonomic EarTips
5 sizes of silicone EarTips ensure you'll find a pair that fits your ears perfectly and improves sound isolation for an enhanced listening experience.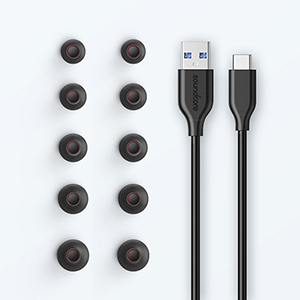 Multiple Accessories
Charging case with 28 hours of power, XS/S/M/L/XL EarTips, and a USB-C cable to conveniently charge the case.
FAQ
How can I adjust Liberty Air 2's volume via the earbuds?

1. Go to the Apple App Store or Google Play to download the Soundcore App.
2. Pair your device with Liberty Air 2.
3. Open the Soundcore App and connect with Liberty Air 2.
4. Click on the Custom Command button in the lower right corner to enter the Custom Command page.
5. Customize the settings according to your preferences; choose to double-click or hold for 1s to control volume up/volume down, then use the settings to adjust the volume.

Note: Customized commands are not available in mono mode.
Will audio pause when I remove the earbuds from my ears?

Yes, but audio will not automatically restart when the earbuds are put back in.

If audio pauses while wearing, please ensure the earbuds are securely in place.
Is Liberty Air 2 waterproof?

Yes, the earbuds have IPX5 protection but the charging case is not waterproof.

FREE SHIPPING on Orders Over $28.00

